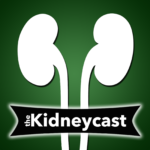 Our last regular episode! We wrap things up by talking about Ari's current day-to-day health with his current transplant and offer some closing thoughts about his experiences with his disease and what we've learned from making "The Kidneycast"
Don't worry! We'll be back someday if anything new crops up with Ari's health or any transplant and Alport Syndrome news warrants discussion.
To learn how to become an organ donor, click here.
See all episodes of The Kidneycast
Subscribe to The Kidneycast on iTunes